Infosystems: Control of production:
Characteristics:
Control of production.
Data acquisition.
Tip and information management..
Specialized in production of small and medium size of complex machinery.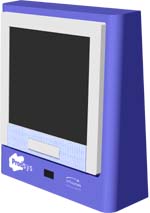 Terminal Prodsys
Adaptable to any configuration
To deal with a time control, costs, yields, etc. for your needs are possible and can satisfy any need you have. With Prodsys just right solutions.
Data apprehension
Directly from machines and processes.
Manually through the own employee.

From Prodsys terminal.
From any PC.

Both previous combined.
Examples
Stop time and causes incidences.
Counting of produced units.
Speeds, temperatures, ...
Processed, refuseds and recoverable units.
Preparation time employee time and machine time.
Material imputed to manufacture orders.
Monitoring in real time.
It permits to analyze the captured data, to accomplish a follow-up of their evolution, to filter and to group by any concept.
Other.
Machines out put.
Costs and incidences for machines, raw material, dealer, employee...
Activity reports.
Machines and processes monitoring.
Planning.
Budgets Structures and phases treatment.
Entry of machine complex structures directly from the CAD.
Custom according to needs.
Flexible reports generator.
Direct access to the production data from the office.
Data import and export to other systems.
Exportable reports to Word, Excel, Html...
Open data base.